2.5 Hour ATV/UTV With 15 Min Lake Swim or Marina/Grill on Lake Stop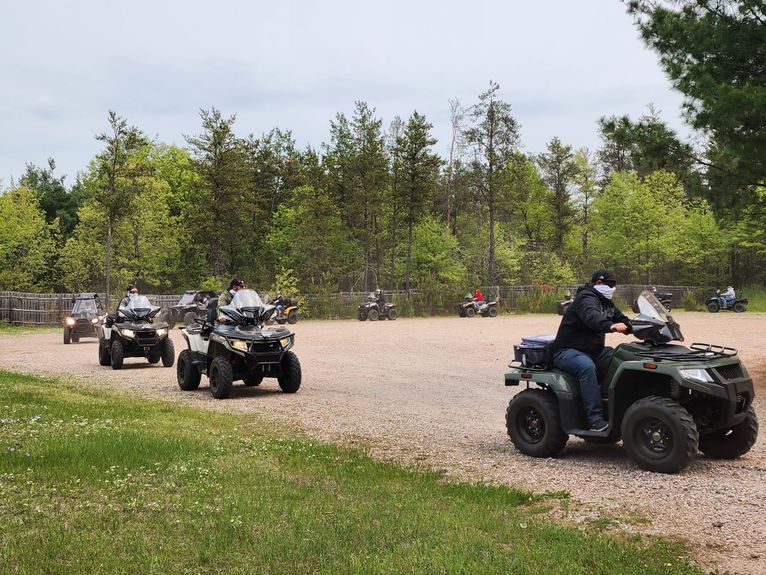 1 of a Kind ATV/UTV Excursion with 10 min Lake Dip or Lake Marina/Grill Stop
Duration
2 hours 29 minutes
Get ready to hit the trails of Central Wisconsin for an ATV loop that will take your group thru the Castle Rock Lake Wisconsin Area where you will experience heart pounding action from start to finish.
Welcome to the American Heartland: fresh air, gorgeous pine trees, scenic trails and beautiful wildlife! Experience priceless memories you will talk about for the next 20+ years.
There is no better experience to bring your family or group together for an adrenaline rush in the Wisconsin Dells Area. Get the family together and take a drive a couple exits from Wisconsin Dells Wisconsin to escape the crowd and for an amazing once in a lifetime adventure!
This tour is a 2 hour tour with an optional 15 minute Lake Dip Free Swim in Castle Rock Lake or a Lake Marina/Grill Stop. Grab your Swim Suits and Towels and we will take care of the rest or pick the Lake Marina/Grill Stop for a quick snack and drink. This is truly a unique once in a lifetime experience that will leave memories that last a lifetime and is rivaled by few events across the country. You want maximum excitement, you want the best of the best for your family and Adrenaline Rush Sports will make sure you get exactly what you want! #1 for Family Fun, Family Reunions, Corporate Events and Outings! Grab your Family, Grab your Friends, Grab your company or just come alone, because everybody is welcome at Adrenaline Rush Sports!
Please note we do not offer stand alone ATV/UTV rentals. All tours are guided for ATV and UTV.
Tour Rates: Includes machine rental, Helmet &Goggle Rental, Gas, Wash Fee and Tour guide(s).
ATV 1 and 2 Seat and 6 Seat UTV mix and match
2.5 Hour- Operator/Rider $199 and for a passenger $99
Minimum age for a passenger on UTV is 2 years old with Booster seat (must be able to wear a helmet) Minimum age to drive/operate is 16 with Parent Present and Safety Course Cert
Minimum age for a passenger on an ATV is 5 years old (Must be able to hold self up) Minimum age to drive 16+ with Parent Present and Safety Course Cert. 17 years old or younger will need need a parent/guardian present to sign the waiver.
We accept all Major Credit and Debit Cards, Paypal, Venmo, Cash App, and Zelle.
We reserve the right to swap your machine choice with a similar vehicle.
We do not require deposits on guided tours and we do not charge a deposit to book. You pay when you arrive.
All Tours are booked at least a day in advance. We can try to accommodate same day requests but normally cannot.
ATV and UTV operators born on or after Jan. 1, 1988 must complete an ATV and UTV safety certification course in order to operate on public ATV/UTV trails and areas in Wisconsin. ATV operators must carry their safety certification card and they must display it to law enforcement officers when requested. To Obtain your certificate Visit https://gowild.wi.gov/ and register for a new account as you will need the Unique ID to take the course. Then take either one of the courses: www.atvcourse.com/usa/wisconsin or www.offroad-ed.com/wisconsin to obtain your certificate.
* We are open all season! Trails close Oct 17th and will reopen May 15th 2023. All Loops in between these dates are pavement only loops.. but the scenery is still remarkable and like music to your soul! So don't let anything stop you from coming up!
**This Tour Ends Oct 15th and will reopen with the trails May 15th. See Fall Leaf Color and Christmas/Holiday Light Tour for Winter rides!
Machine Rental, Helmet and Goggle Rental, Gas, Wash Fee, Tour Guide(s)
Gratuity- Optional except for Corporate Events